---
Most of the remaining letters that I have are from Jack's mom of Omaha, NE. Written on the envelope is May 15 with a check mark and in red pencil M-4. Letter is addressed to Ensign Jack... USS Argonne F Division, Fleet Post Office, San Francisco CA. Letter is written on blank dress pattern paper (errors transcribed as they are).
---
Number 4 Omaha Nebr May 6 1945
Dear Jack
Received letter 16 May 1 you wrote it April 23 letter 17 we got May 2. you wrote it April 26 w got them just one day apart we get your mail quicker than you get our mail. Jack have you received the machine needles I sent one in my letter and Walt put one in his letter, Babes we haven't gone to Sioux City yet. You see Cassidy has been sick. I guess he will get back to work next week so Dad and I will go this week end if nothing else happens. Emelie has been sick she has been having such pains with her gall bladder and they were going to take Ex rayes and she may have to be operated on if she does I guess I will go to KC and be with her and then as she gets better she will come home with me to stay till she feels stronger.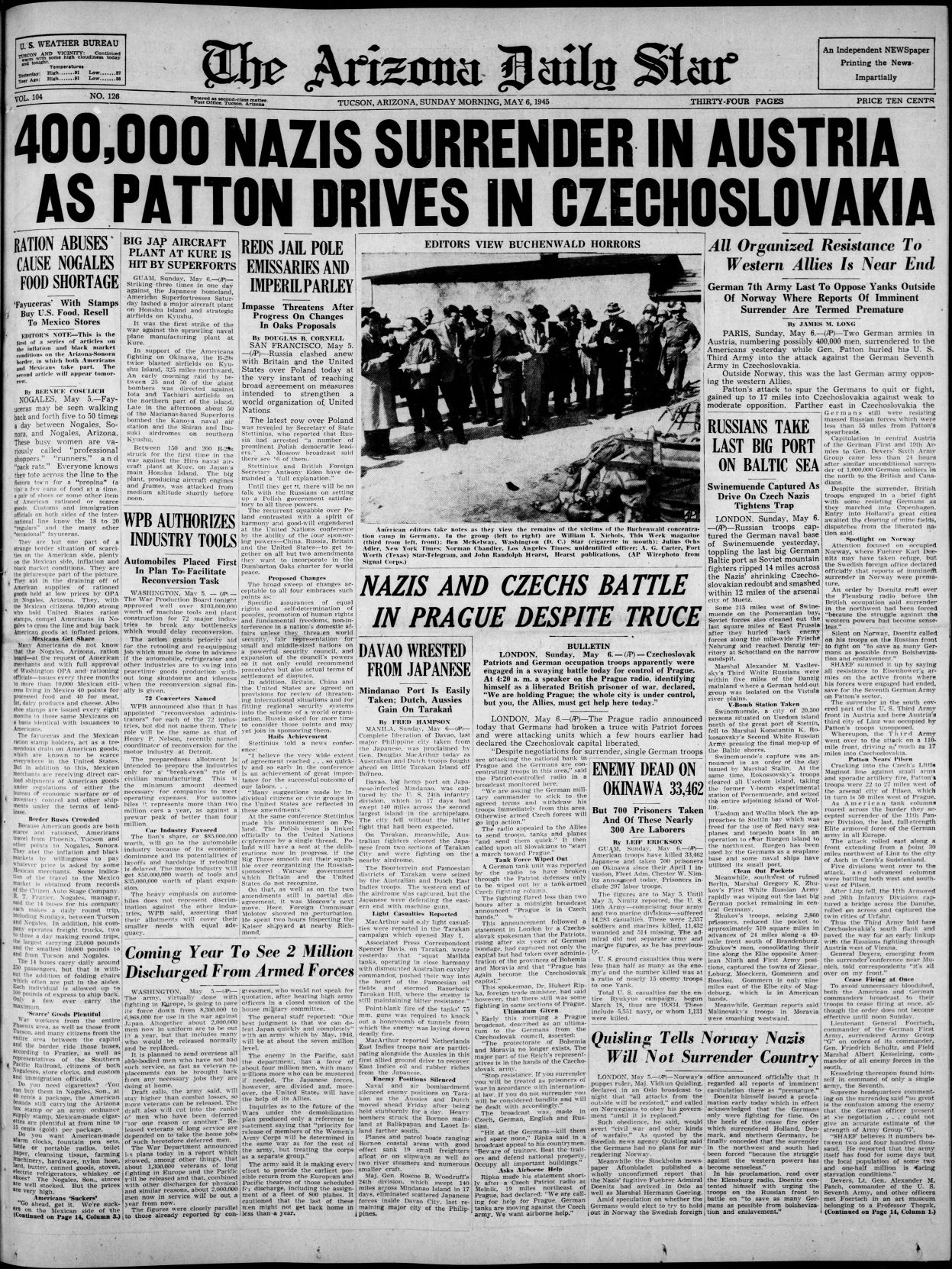 Arizona Daily Star Newspaper May 6, 1945
Jack the menu you sent in your letter sounds like your food is pretty good. I guess you get tired of it to just like we do here at home. I am glad you don't have to wash your own clothes any more. Jack I would like to send you some candy are something else if you can tell me what you would like to have. I understand I can send 5 lbs at a time. You say your food is better when you are working on other ships. So far you have only worked on one ship. Do you like it better to work on other ships?
Babes how about your Vitamins. do you still have some if you need some let me know I will send you some more. I think you should have some of them. Have you gained any weight. Richard Horton got killed and they have services at our church for him. I understand they feel pretty bad about it. He was killed some place in the Pacific. Jack we are sending that book we got "1001 Way to Improve Your Photographs." We will send it first class so you will be sure to get it. I am sending the Bars in this letter Dad just got done putting on that Polish but he got it on to heavy so we will have to remove it and put it on lighter. It sure is hard to get on even. I hope you will like these Bars OK. Did you get your uniform that we sent to you the one that came after you left. We never have heard from them about the bill.
Jack it sounds like the war is over in Germany. How I wish it was over with in the Pacific. I just keep praying and hoping that it will end real soon some people seem to think that the Japs might surrender sooner now that Germany is whipped.
Creighton University in Omaha, NE care of
Boston Public Library's Tichnor Brothers Postcard Collection
You know Bill Vandas has been going to Creighton taking Dentistry he has 2 more years before he will finish and now Creighton is folding up they won't have any more classes in Dentistry so he is going to Minnesota now to finish his last 2 years. They say the class isn't large enough to keep going.
Babes be sure and let us know if you receive this letter so we will know if you got these Bars OK. We had strawberries today for dinner they are pretty high. 59 cents a quart. Gee Babes how I wish you could of been here with us. Well Jack I will close and will write in a few days again don't get to lonely Jack for we all keep thinking of you and keep up your spirit. Keep praying and you may be getting back soon. and then you can have a good time again. I hope you get to be a jg real soon. Betty Stover is a JG. I told you about it in one of my other letters. Be good sweetie. Till we get to see you. I hope real soon. Lots of Love. Keep writing Babes,
Mother